Social Media Plans
Choose from five different types of Social Media plans.
Budget
Standard (Budget Plan customized)
Deluxe (Personalized Facebook Page posts)
Premium (Personalized Facebook Page and Group posts)
New Release / Sale Blitz
My automated posts are designed to generate engagement on Facebook. I post twice a day on all plans. Post times vary each day to avoid appearance of automated scheduling. For best results, clients are encouraged to review their posts daily for five to ten minutes, by liking or responding to reader comments.
Budget Plan
Improve your reach by using my more than 800 general-audience automated social media posts for your Facebook and Twitter feeds. Just $20 a month
Standard Plan
Want a more customized plan? Pick and choose from the images already in my automated rotations. You can even modify the post content! Just $30 a month
Deluxe and Premium
Social Media Plans
Want automated personalized Facebook posts without the hassle of scheduling posts? Let Me Help!
Maximize your Pinterest account. I import direct links to images you've pinned into my scheduler for automated posts to your Facebook page and/or group. Your words. Your Voice.
Both plans include five additional posts for back list books with cover, blurb and link. Setup fee for both plans at huge savings.
Deluxe Plan** — either page or group daily posts $35 monthly

Premium Plan**  — page and group daily posts $40 monthly
** Setup Fees for Deluxe and Premium Plans
Savings based on $30 hourly client rate.


$125 — 150 images (12+hrs a $235+ savings)
$150 — 200 images (18+hrs a $390+ savings)
$200 — 300 images (24+ hrs a $520+ savings)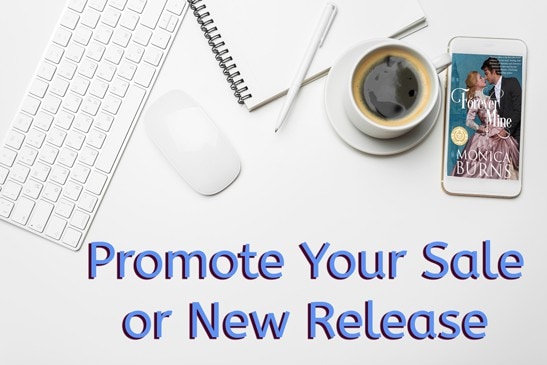 BONUS for historical romance authors
I publish your sale post every Tuesday for three weeks in my Facebook reader group, which is very active, and currently has more than 800 members.
Make Your Promo Pop With Custom Images
There are plenty of free programs available to authors for promo graphics, but it bites into your time, and it's difficult to create an image truly reflective of your book. A custom graphic is more memorable than one everyone else is using. Custom graphics are at reduced pricing when add to a promo package. My custom graphics come with:
Book specific background
Three images with different tag lines
An image with minimal text for Facebook ads
Sized based on current social media platform
Sale/Release Social Media Spotlight
TEN Day — Designed for short-term sales  — $25
THREE weeks of Facebook OR  Twitter sale posts  — $30
THREE weeks of sale posts to Facebook AND Twitter — $35
Up to three premade graphics are included in the spotlight personalized with your cover (examples below). Client chooses from a variety of images.
Author provides post/tweet content snippets, which may be edited to accommodate for spacing. I have hashtag and vendor handles for Twitter.
Facebook Schedule
Week 1 — Posts every other day
Week 2 — Posts every three days
Week 3 — Posts every four-five days
Twitter schedule
Six to eight tweets daily for three weeks. Hashtag and vendor specific tweets are spread out over a 24-hour period.
Sampling of PreMade Spotlight Graphics
Your book cover is added to your choice of three different generic graphics as part of the spotlight plans. Also includes generic text such as Free, Sale, or New Release, your website URL and price.
Other Generic Images To Select From With Basic Promo Plans
This is a reprensentative sampling of available generic images. There are others available to choose from.